THANK YOU SO MUCH FOR YOUR DONATION!
When you donate, please be sure to give us your
email address so that we can thank you properly!
---
Give the Gift of Song is the Cascade Chorale's membership / donation program to support our mission to make choral music accessible to everyone in the Central Oregon community. Our concerts are an enormous logistical and financial undertaking but, despite the cost of hiring support musicians, renting venues, and community projects, in 2012 we stopped charging admission to our concert-goers. We now rely solely on donations to fund most of our operations. Your tax deductible donation or sponsorship will help us to continue to bring beautiful choral music to Central Oregon. Please consider giving us your support today. For more information on Sponsorship opportunities and other ways to support the Cascade Chorale, please contact CCA President Tom Moore. The Cascade Chorale Association appreciates your attendance and financial support.
Be the Gift of Song is the Cascade Chorale's scholarship program to support our community's singers while they participate in Cascade Chorale programs. The Deschutes County Arts and Culture Grant Program generously provided kickstart funding for the program in 2022 by awarding $2500 to the Cascade Chorale Association. The timing for this award could not have been more perfect as the Chorale was just starting back with in-person rehearsals in the Fall of 2021 after COVID-19 closures beginning in March 2020 and was planning for ways to bring concerts back to the public. After the March 2022 and May 2022 concerts were cancelled due to COVID-19, the Singer's scholarship helped offset the sting of cancelling the concerts by covering the enrollment costs for singers for the next term. This helped bring singers back who otherwise might have felt shortchanged by not getting to sing for the public the term before.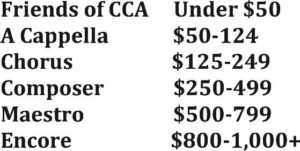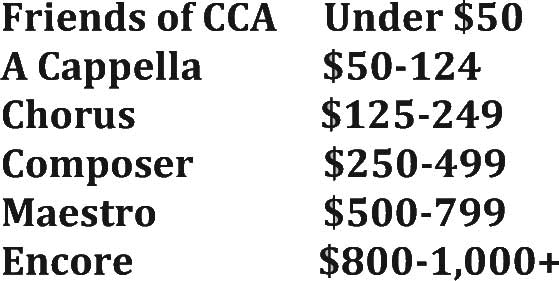 ---
To make an ONLINE donation:
Click on the 'Donate' button below (note: a PayPal account is NOT required),

Enter a donation amount,

Enter your Name(s) in the

+Enter name(s) or 'Anonymous'

field [this is how it will appear in our program book],
Select: 'Have a PayPal account? Log in' or continue to 'Donate with a debit or credit card,'
Complete the remainder of the form NOTE: your contact information will only be used to thank you profusely

and we'll enter your membership level for you after your transaction is complete.
---
Click HERE for form if you prefer to mail in your donation.
Please send to:
Cascade Chorale Association
P.O. Box 2243
Bend, OR 97709
Thank you for your support!
---
Shop at Fred Meyer and support the Chorale!
Sign up (and sign your friends up 😉 at www.fredmeyer.com/communityrewards and choose CASCADE CHORALE ASSOC as your charity of choice!
---