Give the Gift of Song
Membership Donation
Thank you for choosing to become a member of Central Oregon' s Cascade Chorale Association, or to make a donation. After deciding on a membership level, please proceed to the Donate options below: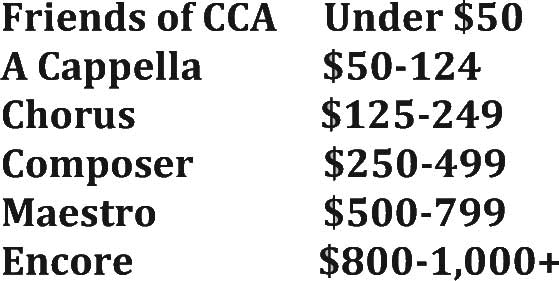 Click HERE to view Membership Brochure
---
To make an ONLINE donation:
1) Click on the 'Donate' button below (note: a PayPal account is NOT required),
2) Enter a donation amount,
3) Enter your Name(s) in the +Enter name(s) or 'Anonymous' field [this is how it will appear in our program book],
4) Select: 'Have a PayPal account? Log in' or continue to 'Donate with a debit or credit card,'
5) Complete the remainder of the form (note: your contact information will NOT be shared with any other party) and we'll enter the membership level for you after your transaction is complete.
---
Click HERE for form if you prefer to mail in your donation.
Please send to:
Cascade Chorale Association
P.O. Box 2243
Bend, OR 97709
Thank you for your support!

---
Shop at Amazon Smile and support the Chorale!

---
Shop at Fred Meyer and support the Chorale!
Sign up (and sign your friends up 😉 at www.fredmeyer.com/communityrewards and choose CASCADE CHORALE ASSOC as your charity of choice!
---