NEW CLASSES REGISTERING NOW!
James Knox has arranged (on a very short timeline!) two classes:
CHORAL MUSIC THROUGH THE AGES
and
HISTORY & DEVELOPMENT OF VOCAL JAZZ MUSIC
These are available by registering on the COCC website.
If you are under 65 and have a Bobcat account already set up, you've got it easy, see the information below for the course numbers.
If you don't have a Bobcat account set up, you may need to contact the Registrar for assistance.
If you are 65+ and have previously registered for the Cascade Chorale or Jazz Central, email Debbie at debcole1025@gmail.com and she will put you on the list for one or both of these cool new classes.
DEADLINE: You must register by one of the methods outlined above by April 7.
COURSE PREVIEW: https://choralmusicthroughtheages.godaddysites.com/
COURSE REGISTRATION INFO:
Choral Music Through The Ages: MUS 197, Cascade Chorale, CRN#20167
History and Development of Vocal Jazz Music: MUS 199, Select Topics: Music (vocal jazz), CRN#24416
BASIC OUTLINE:
Weekly lecture
Website for information and resources
Weekly live chat
---
POSTPONED!
Stay tuned for information on when you can catch this fabulous concert!
---
A CELEBRATION OF WOMEN COMPOSERS
Our next concert will be a dynamic celebration of music by women composers. Come be amazed at this joyous journey across the ages and around the globe as we explore the wealth and diversity of women's inspiration from the 1500s to today!
The concert is free to all with donations gratefully accepted.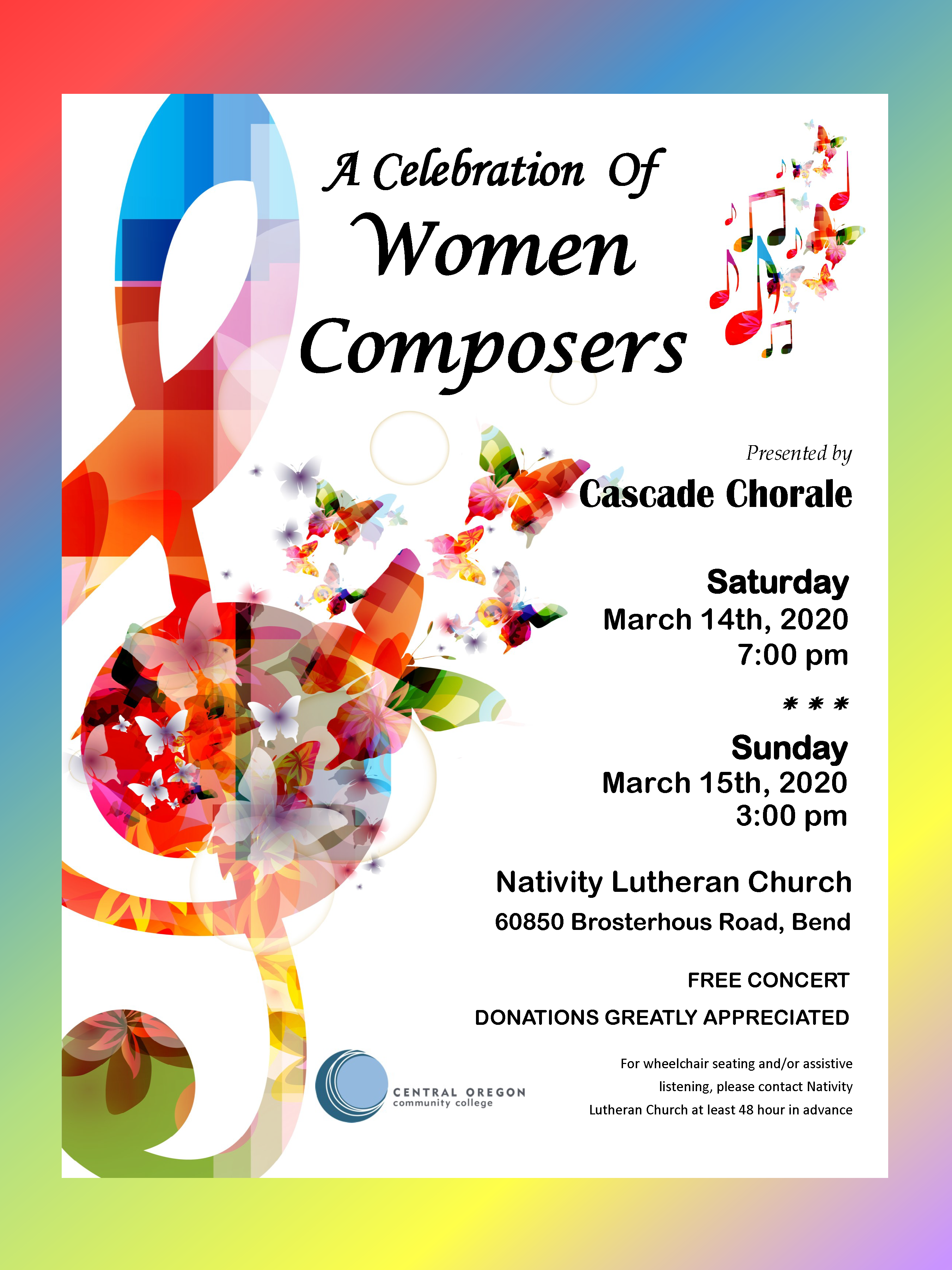 MAY 16 and 17, 2020:
MODERN BROADWAY!
Stay tuned for details! Interested in singing? Check out the information under Enrollment Info.
Thanks for supporting the Cascade Chorale