Cascade Chorale Welcomes You!

Our Mission:
To provide an opportunity for talented vocalists to sing together and prepare a variety of enriching, enjoyable and educational concerts for the community.
The CASCADE CHORALE is a one credit class that meets Tuesday evenings at Central Oregon Community College. We welcome all who enjoy singing in a large, SATB choral group. Each term brings a new repertoire and membership roster.
Our Fall, 2017 term begins Tuesday, September 19, and concludes with our 13th Annual Holiday Magic, at the Tower Theatre, Saturday and Sunday, December 2 & 3, 2017. Please check our Enrollment Pages and contact Director Knox if you're interested. We'd love to have you sing with us!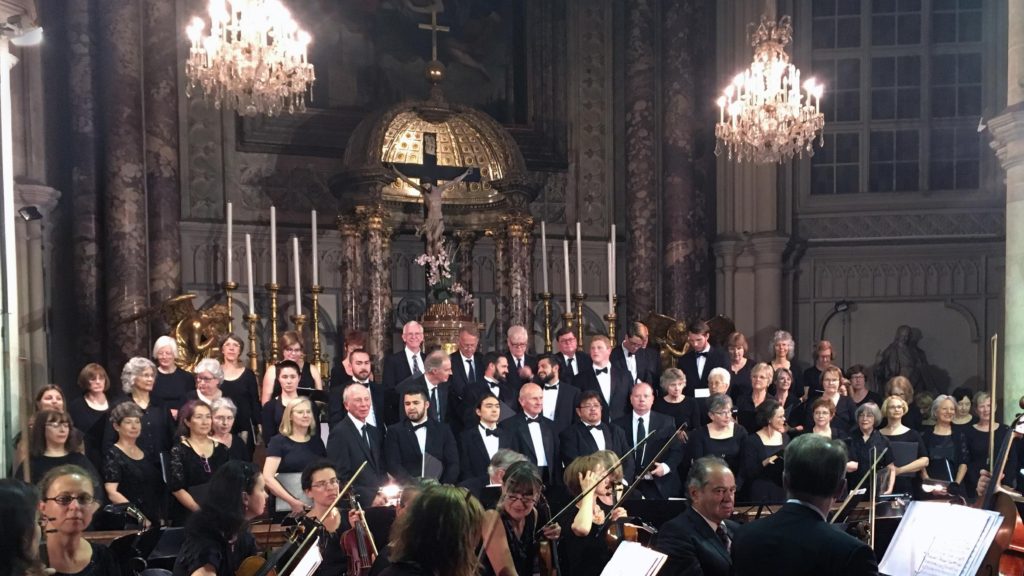 With other groups at Minoritenkirche, Vienna, June 20, 2017
Our Spring, 2017 term was just completed with concerts (1960s folk, pop, and rock!) Friday and Saturday, May 19th and 20th, at the Unitarian Universalist Fellowship on NW Skyliners Road at Skyline Ranch Road.

Winter, 2017 term the Chorale served as the chorus in Opera Bend's production of La Bohème.

Interested in singing with us? Please check out our Enrollment Info pages.
Go to the Contact Us page to join our mailing list.
—